WOLA's Internship Program is named in honor of Sally Yudelman for her commitment and contribution to WOLA and the cause of social justice. Following Sally's example, we hope to provide unique mentoring opportunities through internships, encouraging the next generation of young people to get involved in advocating for human rights in Latin America. Our former interns can be found around the world working as human rights advocates, congressional aides, lawyers, journalists, professors, and even as members of WOLA's staff.
Every semester, WOLA's new interns are paired with staff mentors and absorbed into the work of the organization. They collaborate on a mix of research, analytical, and administrative work, and they are encouraged to get involved in the day-to-day activities of their teams.
WOLA selects three interns per session (Spring, Summer, and Fall), and each intern is assigned to work with two of the programs from the following; Border Security, Central American Monitor, Colombia, Communications, Cuba, Development/Fundraising, Drug Policy, Mexico and Migrant Rights, Operations and Human Resources, and Venezuela. The available programs are based on the intern's interests as well as WOLA's needs; they change every session.
Interns also participate in the behind-the-scenes work of running a non-profit organization, including helping with technology, media, finance, and event planning.
For a look at former interns' contributions to WOLA and personal reflections on the Yudelman Program, check out:
Fundraising Internships
Development interns assist with various aspects of fundraising and institutional development, including event logistics and planning, database management, mail and email campaigns, grant writing, and other responsibilities as part of the fundraising team. Interns will learn about donor cultivation and stewardship and prospect research. The position provides a hands-on experience in development and assures broad exposure to each of WOLA's different program areas. Fundraising internships will give students experience in the art of communicating WOLA's mission and work to our broad base of supporters, and are ideally suited for students interested in non-profit management or philanthropy—in addition to human rights and Latin America. Experience with event planning and administration, fundraising, or database management is a plus.
Communications Internships
Communications interns assist with social media, WOLA's website, content development, press relationships, video filming and editing, and a variety of other responsibilities as a part of the communications team. The position provides a unique look at the intersection of strategic communications, social media, press work, and the promotion of human rights in Latin America. Communications internships will give students experience in turning compelling stories into action by articulating WOLA's mission and work for different target audiences, and are ideally suited for students interested in journalism, content production, strategic communications, or marketing—in addition to human rights and Latin America. Experience with digital software, press work, graphic design, and multimedia is a plus.
Foreign Policy Internships (Five Programs)
Policy interns are each assigned to a specific programmatic area or a mixture of them at WOLA. Not every program has an intern every semester. Within each program, interns take on a wide range of responsibilities; on any given day, an intern might attend a hearing on Capitol Hill while another translates a press release and another conducts research for a memo. The position includes immersion into one of WOLA's program teams, and offers students first-hand experience in the research, strategy, and development of human rights advocacy. Policy interns are ideally suited for students interested in international relations, foreign policy, or political science—in addition to human rights and Latin America. Experience with translation, technical writing, and research is a plus.
APPLICATION INSTRUCTIONS:
For Spring 2024, this cohort will consist of two (2) hybrid interns, along with the opportunity for one (1) remote intern. Hybrid interns are expected to come into the office at least half of the time they work. WOLA will follow all public health guidance and revert back to hybrid if needed at any time. Interns that would like to be considered for a virtual internship should specifically request so in their cover letters. Interns are paid $18 an hour and are required to work between 20-25 hours per week. We offer an academically and professional enriching environment for interns to learn and grow. WOLA is willing to work with students to arrange for university credit. If you are applying through a university or fellowship program that comes with funding, please state this in your email.
Interested applicants should have a demonstrated interest in human rights, democracy, and social justice in Latin America; initiative and flexibility; the ability to work in a fast-paced environment; good organizational skills; follow-through; and attention to detail. A minimum of intermediate-advanced Spanish proficiency is required for all internships. Intermediate Portuguese language skills and an interest/experience in development, operations, or communications are pluses. Lastly due to the paid nature of this internship you must be authorized to work in the United States. 
This internship is open to all of those interested, no matter what stage you are at in your life, you do not need to be enrolled in a university. WOLA takes pride in prioritizing candidates that have not previously had a chance to intern with similar non-profits or human rights related NGOs in the past. As long as you can commit to 20-25 hours a week and meet the requirements above you may apply.
In order to be considered for an internship, WOLA needs the following materials:
1) Resume; in English.
2) Cover letter;
Your specific dates of availability and number of hours you will be available to work
Your particular interest in specific programs, communications, or development
Why do you want to intern at WOLA and your level of Spanish?
3) Two writing samples; one in English and one in Spanish on a writing topic of your choice (no more than 2 pages each)
Please submit all application materials via email to Candice Robinson at [email protected]. Due to the amount of applications we receive all applicants will receive an automatic email acknowledging receipt of your documents. If you have not received it check your spam inbox. Candidates will only be contacted if they are moved forward in the process.
Fall Dates:
Application Deadline: October 31, 2023
Selection Deadline: Mid December
Length of Internship: Early January to Mid May
**If you require an earlier deadline due to university funding or credit, please include the date in the subject line of your email**
WOLA is where I realized human rights is definitely my field. As a work-space, WOLA allowed me to understand that fighting for human rights is a daily battle. Being around such passionate individuals and experts inspired me to become an active advocate for minority groups in my island, Puerto Rico. 

Marjorie Segarra, Fall 2018 intern

My experience at WOLA has been the beginning of a long journey towards justice.

Valeria Mejia-Guevara, Spring 2018 Intern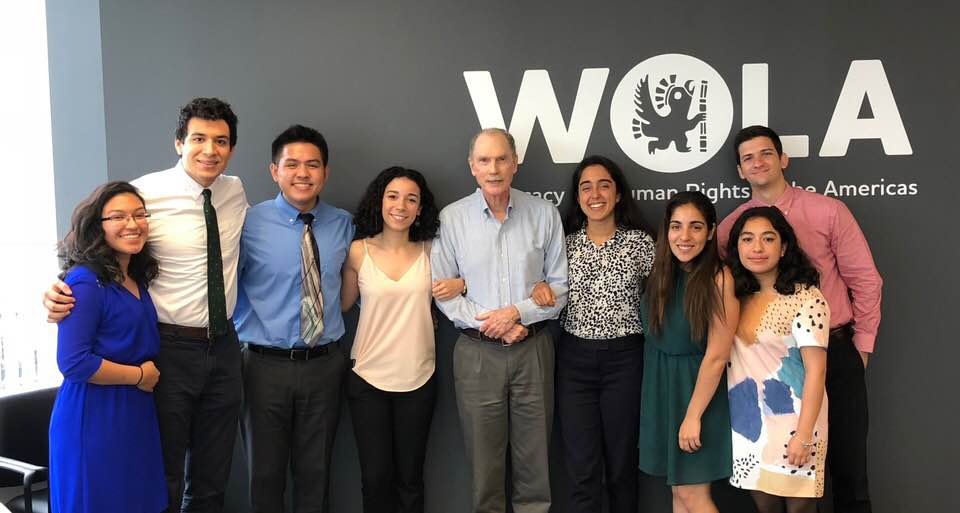 WOLA's Summer 2018 Interns with WOLA co-founder Joe Eldridge
WOLA's Spring 2016 Interns at the WOLA Book Award at the Swiss Embassy
WOLA's Fall 2015 Interns at the Human Rights Award Ceremony and Benefit Gala
WOLA's Summer 2015 Interns at Congress
WOLA Intern Alumni Reunion in March 2016