In a report released today, WOLA and Peace Brigades International (PBI) assess the progress and shortcomings of Mexico's national "Mechanism to Protect Human Rights Defenders and Journalists"—a government body established in November 2012 to provide rapid response to journalists and defenders under threat. The report is based on PBI's and WOLA's communications with journalists and human rights defenders and on PBI's accompaniment of several human rights defenders who are beneficiaries of the Mechanism.
As the report highlights, "Mexico continues to be one of the most dangerous countries in the world to defend human rights and practice journalism. Attacks on defenders and journalists occur regularly, creating a worrisome environment of self-censorship and intimidation." Between 2006 and 2015, Mexico's National Human Rights Commission (Comisión Nacional de los Derechos Humanos, CNDH) registered 380 cases of attacks against human rights defenders, including 25 cases of murder since 2010. About 40 percent of these cases were reported during the current administration of President Peña Nieto. In addition, in the first five months of 2016 alone, at least five journalists were murdered likely as a consequence of their work, and human rights defenders have faced multiple acts of defamation.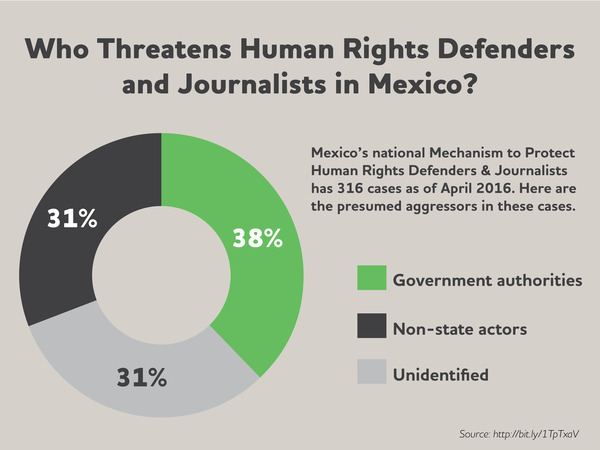 The Mechanism currently has 316 cases under its protection, representing 300 defenders and 219 journalists. According to government data, 38 percent of the presumed aggressors in these cases are government authorities, while 31 percent are individuals not associated with the government, and another 31 percent are not identified. Over half of the Protection Mechanism's cases come from journalists and defenders located in: Veracruz, Guerrero, Oaxaca, Chiapas, and the Federal District (in the Federal District, it is important to note that several protection requests come from individuals who have relocated to the city out of fear of persecution).
While recognizing the progress made in strengthening the Mechanism, WOLA and PBI identify several challenges that persist, including an insufficient number of well-trained staff. The report also notes that there is often a disconnect between the risks faced by a defender or journalist and the protection measures assigned to them. For example, in some cases, the same police body identified as the aggressor is the authority assigned to protect the defender or journalist. WOLA and PBI also offer a series of recommendations to the Mexican government to strengthen the Mechanism and to the U.S. government in its assistance to Mexico to protect human rights defenders and journalists.
The report concludes that the Mechanism "is a short-term solution to the insecurity defenders and journalists face in Mexico" and that the most effective way to protect journalists and defenders from attack is to investigate and sanction those responsible for these crimes. The Mechanism operates in a context in which approximately 98 percent of crimes committed in Mexico remain unresolved. Without addressing the impunity that prevails in cases of attacks against human rights defenders and journalists, the protection provided by the Mechanism can never fully guarantee the safety of those at risk.